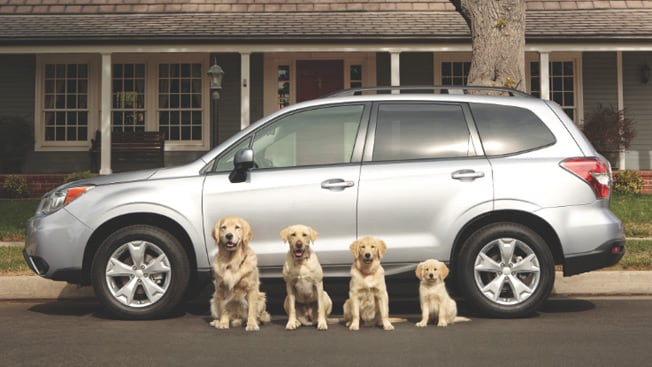 In addition to sleek cars and affordable prices, did you know that Subaru also cares deeply for all of our furry (and scaley) friends? Every October is Subaru Loves Pets Month, a month-long holiday that Subaru uses to celebrate animals of all shapes, sizes, and walks of life. Since first launching this month-long event in 2015, Subaru has helped over 144,000 pets nationwide--and it won't be slowing down anytime soon.
A commitment to the wellbeing of animals is just one part of The Subaru Love Promise--a series of initiatives that Subaru has launched to show its commitment to its drivers, their families, and the world around them. Through working with countless different charitable organizations and nonprofits across the globe, Subaru strives to reinvest its energy and expertise in making the world a better place in a wide variety of ways. From environment to education, the Subaru Love Promise strives to make a tangible difference.
Each year, more than 6.5 million animals enter shelters. This number has been especially volatile in 2021--as circumstances have changed for some pet owners who adopted pets during the early shutdowns of the COVID-19 pandemic in 2020. Faced with changing work schedules or shifts in remote work, some owners have had to make difficult decisions about their ability to keep providing for their animal companion(s).
To address the sudden reversal in post-lockdown pet ownership, Subaru retailers are partnering with local shelters to run adoption drives across the country! These drives are intended to help pets in need find new homes--along with making adoption significantly easier for their new owners! In 2020, more than 20,000 animals in shelters found new homes through Subaru-run adoption drives, and that number is likely to be even higher this year!
Last year, Subaru paid extra attention to special-needs animals through its second annual National Make a Dog's Day celebration. 2020 was a year for underdogs, and Subaru recognized that through its Year of the Underdog campaign, which sought to find forever homes for underdogs, which are disabled dogs that are difficult to home. While these dogs might have disabilities to overcome, more than 500 adoption events nationwide proved that they're more than up to the task in cuddles, snuggles, and hugs.
In addition to finding new forever homes for shelter animals, Subaru also partners with local dealerships to make sure that animals in the community are getting all of the love, care, and consideration that they deserve. To that end, Subaru also works with local animal care organizations to supply toys, food, and medicine for local pets!
While the celebrations won't start until next month, there's a lot to look forward to in the meantime. In the event that you're already itching to make a difference, you can use Subaru's location tool to find participating Subaru dealerships near you! Additionally, you can look forward to the release of Subaru's annual pet apparel, which includes harnesses, seat covers, and a variety of other high-end, Subaru-branded pet apparel. Show off your dog's sense of style AND your love for this amazing car brand with a single purchase!
Once October rolls around, make sure to check with your local Subaru dealer regarding their partnership with the Subaru Loves Pets celebration. In addition to learning about all of the awesome ways that you can make a difference for animals in your community, you might also leave with some awesome, limited-edition Subaru pet apparel!
For even more reasons to support Subaru's amazing mission, visit Beyer Subaru today! While you're at it, schedule a test drive for your dream car so that your furry friends can get around in style.
There's a reason why Gengras Automotive is the best. Our inventory of new and certified pre-owned Subaru cars features something for everyone at affordable prices! Whether you're looking for a Subaru Outback, Subaru Forester, Subaru Ascent, or Subaru Legacy, we've got you covered. Your perfect Subaru may be a lot closer than you think.