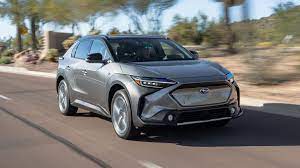 The automotive world is going electric, and Subaru is joining the fray with the Solterra. It's their first all-electric vehicle, and right now all signs point toward it being an electrifying hit.
There's a ton to love if you're considering the Solterra, and we'll dive into everything you should know when you're making your decision.
The Range and Charging Time
The first thing everyone wants to know when they're considering an all-electric vehicle is the range. It's a great question because if the vehicle can't go far enough you can't really use it. With a 222 to 228-mile range (it all depends on the tire size), the Solterra goes more than far enough to tackle most trips.
Even better, if you connect it to a 100-kW DC fast-charger you can reclaim 80 percent of a charge in just 56 minutes. That's over 177 miles of coverage in less than an hour of charging! If you have a more traditional Level 2 charging system in your garage, you can recharge the Solterra from a completely dead battery in just 9 hours.
The Solterra doesn't use traditional fuel economy standards, but if you're looking for some sort of estimate the 94 MPGe is among the best in the industry.
Performance Specs
While the range and charging time are certainly important features, you still want a vehicle that's fun to drive. The Solterra doesn't disappoint there either. It delivers 215 horsepower with 249 ft-lb of torque, and they come standard with an all-wheel-drive system.
Finally, there are four different driving modes you can cycle through: Eco, Normal, Power, and X-mode. X-mode is a great feature that helps improve traction on slippery roads.
Standard Features
If you're getting an all-electric vehicle, you want to feel like you're driving something state-of-the-art. With all the standard features included in the Subaru Solterra, that's definitely the case.
The Solter comes standard with a forward-collision warning system, automated emergency braking, lane-departure warning, lane-keeping assist, and blind-spot monitoring with rear cross-traffic alert. But those are just the standard safety features.
You also get Subaru's first 360-degree camera system, Apple CarPlay, Android Auto, and even a wireless phone charger. These are all standard features, so if you get a Subaru Solterra, you know they're going to be in your vehicle.
Cargo Space and Ground Clearance
When you're shopping for an all-electric vehicle, you really don't think too much about ground clearance and cargo space, but those are definite selling points with the Solterra.
If you fold down the rear seats you get 30 cubic feet of storage space, and the entire vehicle has 8.3 inches of ground clearance. This level of ground clearance rivels many SUVs, allowing you to avoid obstacles and traverse rugged terrain with ease.