The 2023 Subaru Love Promise Customer and Community Commitment Award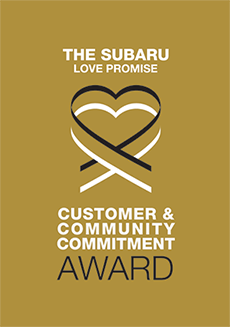 We've been nationally recognized for our dedication to our customers, our community, and the Subaru Love Promise.
We're honored to receive the 2023 Subaru Love Promise Customer and Community Commitment Award. This award nationally recognizes elite Subaru retailers who provide an exceptional customer experience at every interaction with Subaru. These retailers have also demonstrated an outstanding commitment to supporting passions and causes in their local communities in important areas such as the environment, community, health, education, and pets.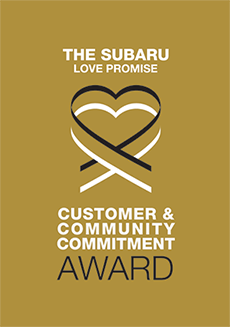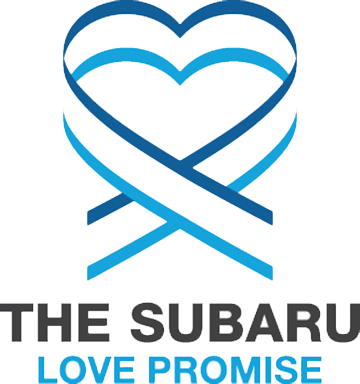 What is the Subaru Love Promise?
Subaru and our retailers believe in making the world a better place and the Subaru Love Promise is our vision of respecting all people. This is our commitment to show love and respect to our customers and to work to make a positive impact in the world.
How is Gengras Subaru Torrington dedicated locally to the Love Promise?
please use example provided
Litchfield Hills Northwest Elderly Nutrition Program
Love Promise Stories from Gengras Subaru Torrington
Subaru and Gengras Subaru Torrington believe in making a positive impact on the communities in which we live and work. We uphold that belief through our Love Promise Community Commitment. Every month, we select inspiring stories from customers and partners from around our area who strive to support our collective commitment and feature them here
Gengras 12 Days of Christmas - $60k donation to 12 local charities - Jakub P
As an employee at Gengras Motor Cars, I am constantly amazed by the generosity and kindness of our company. The motto "People Come First" is truly evident in everything we do, and the recent Gengras 12 days of Christmas giveaway was no exception. Over the past 12 days leading up to Christmas, each Gengras dealership donated $5,000 to a local charity in need that our employees were passionate about helping. These charities included Operation Fuel in Hartford, Crossroads Food Pantry in East Hartford, Meriden Soup Kitchen, Meriden Shelter Now, My Sisters Place in Hartford, The Boys and Girls Club of Springfield Massachusetts, Shepard Meadows Equestrian Center in Bristol, Hands on Hartford, Vital Communities in White River Junction, New Life Worship Center, Paws 4 Life Animal Rescue, Loaves and Fishes Ministry Food Bank, and Make-A-Wish Connecticut. Gengras Subaru decided to donate their $5,000 to Friendly Hands Food Bank in Torrington, CT, along with a Forester full of non-perishable food items that were raised over the past month. This gesture by Gengras Motor Cars exemplifies the Subaru Love Promise commitment to making a positive impact in the world, and being more than just a car company. Gengras Motor Cars shares many of the same values as Subaru, and it is clear that the company is dedicated to making a positive difference in the communities we serve. The 12 days of Christmas donations were a beautiful way for Gengras Motor Cars to show support for those in need, and I am proud to be a part of such a caring and compassionate organization. Thank you, Gengras, for always putting people first and for constantly striving to make our local communities a better place.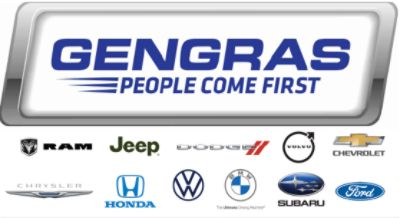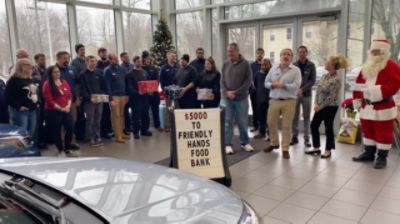 ---
¡Muchas gracias! - Catherine H
¡Muchísimas gracias! With your generous donation, I was able to purchase a class set of clipboards for my students to use when doing interactive activities. Research has shown that when students are doing something physical while they learn, that the learning is more likely to stick! I try to do a variety of activities in my Spanish classes that require students to get up out of their seats and move! The clipboards have made these activities easier to facilitate. I was also able to purchase a subscription to ¿Qué tal? This is a magazine created specifically for students learning Spanish at the novice level. It is a hands on authentic resource that allows my students to practice their interpretive reading skills. I was also able to purchase some classroom decor to reinforce the language, manipulatives, and games. My students and I are extremely grateful and we truly appreciate your support of Torrington Public Schools!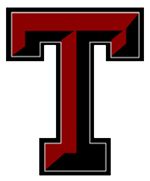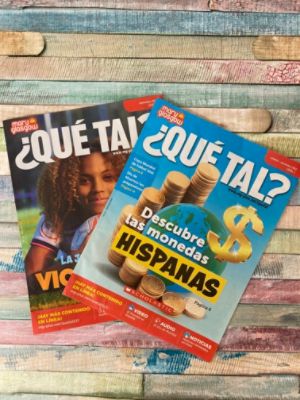 ---
For The Animals That Others Have Turned Their Backs On - Jennifer L
The challenges in animal welfare this past year have been considerable, national adoptions have been down and animal surrenders have risen, and that trend has also unfortunately been true at the Little Guild. Many of the homeless animals we rescue have been traumatized and need significant medical and behavioral support before they are able to be adopted. Thanks to our partnership with Gengras Subaru for the Subaru Loves Pets Month of October we were able to promote and attract adopters for some of the animals who most needed new homes in our shelter. Piper was found left in a cat carrier at the dump. She'd been at the Little Guild for almost two months before being adopted during our Subaru Loves Pets Promotion. "It took her a few days to get comfortable at our home, she was a bit frightened at first but she is now starting to acclimate, learn a routine and she is feeling comfortable enough to snuggle with us. She is such a love, so gentle, playful and very smart. We just love her so much already and are so grateful to be able to provide her with a safe and loving home," gushed her new owners. Lilly was a 9-year-old Lab Terrier Mix that was saved from a hoarding situation. Lilly had been chained up outside with 26 other dogs, they were not properly tended to or cared for. Lilly came to the Little Guild with a wound that had gotten infected, with proper care she was soon ready to meet her new family. Lilly was adopted into a loving family who adores her, thanks to our Subaru Loves Pets Promotion. "She is the best dog ever, so sweet, so smart. She watches our routine and has everything down packed. We couldn't ask for a better dog!" said her new owners. For the Pipers and the Lilly's of this world, animals that others have turned their backs on, Subaru Loves Pets is making all of the difference. The Little Guild rescues, loves and nurtures homeless cats and dogs and places them into caring homes in our community, it can be a long and arduous path. Subaru Loves Pets support makes an enormous difference to the animals we save and the work that we do.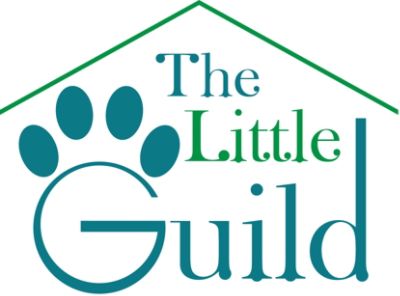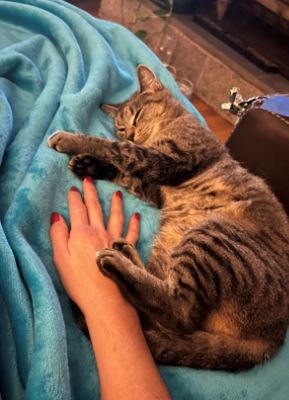 ---
Helping the children in the community for Christmas - Anthony D
Gengras Subaru was so generous in helping to buy a pallet of toys for children in the community that may not have anything for Christmas. We appreciate the heart of Gengras and everything they do for the community!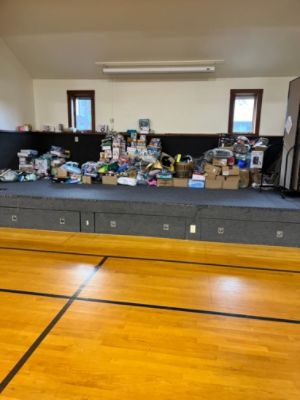 ---
Making Spanish Fun! - Mary-Grace H
Muchas gracias, Subaru! I was very excited to receive the materials that I ordered through AdoptAClassroom.org! I purchased some Spanish posters to dress up the classroom and give needed information to the students. I also was able to buy some games to practice grammar concepts and manipulative word blocks to practice sentence formation. Today, for the first time, the students played the games and worked with the word blocks to practice sentence formation. They had a lot of fun with both! Here are a few of the comments I heard from the students while they were participating in the activities: "I love this game!" "This is so much fun! I think I am getting the hang of this verb tense!" "It's not so hard when we do it this way! I give this game a thumbs up!" "When can we do this again?" For me it was great to see my students having fun and learning an important concept of the language at the same time. I was also able to order monthly subscriptions of the magazine, Ahora, for my students to keep them updated with what is new in the Spanish speaking world. I have not yet received them, but I am looking forward to using them with my students. Thanks again Subaru form making learning more fun and engaging for my students! Sincerely, Mary-Grace Hanusch, Spanish teacher, Torrington High School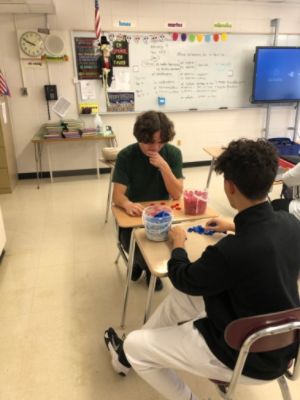 ---
Learning Brought to Life - Jamie R
Through the generous grant from Gengras Subaru, I was able to purchase items for my Criminal Justice and Psychology classes to help bring the content to life. With some of the funds, I bought two pairs of impairment goggles that simulate a .08-.15 BAC, which is a level of impairment over the legal limit for drivers in CT. In our Criminal Justice class, students learning about the methods and procedures police use in conducting DUI stops will be even more engaged in the content by being able to assess each other in the various parts of the standardized field sobriety tests while wearing the goggles. While everyone knows that driving under the influence is dangerous, it is much more powerful for the kids to see for themselves how easily their abilities and perceptions can be skewed and affect their basic functioning. In addition to these goggles being useful in Criminal Justice, I can use them in my psychology classes when we are studying about visual perceptual processing. I was also able to buy a pair of glasses that completely flip the person's visual field upside down. While wearing the glasses, students will try to perform a series of tasks, demonstrating several key components of visual processing and perception. What's really cool for kids to see is the real life process of perceptual adaptation... after just a few minutes, they'll find that they get used to the upside-down view and can do better on the tasks the longer they wear the glasses. These items have been on my wish list for years, but the cost kept them out of the budget and out of reach for my students. Thank you Gengras for helping to bring the learning to life!
---
Subaru Loves the Earth - Connecticut Coastal Cleanup - Jakub P
Last weekend, two members from the phenomenal staff at Gengras Subaru, AJ and Cody, volunteered to participate in our annual Coastal Cleanup project at Coe Park in Torrington! This was conducted through a partnership between Subaru retailers and Save the Sound, with the mission of cleaning the waterways of Connecticut. Thank you so much AJ and Cody for helping our local community and making an effort to clean our local environment!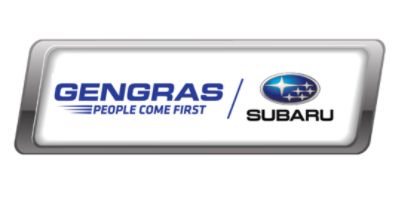 ---
Blanket Donation to Charlotte Hungerford Hospital in Torrington, CT - Jakub P
On September 7th, staff members from Gengras Subaru in Torrington stopped by Charlotte Hungerford Hospital in Torrington, CT to spread hope, love, and warmth to cancer patients by delivering blankets, and messages of hope! We hope all the patients will love them! Thank you to the Gengras Subaru staff for bringing the blankets, Ann Marie for making all of this possible, and all of the wonderful hospital staff for their hard work and dedication to treating these amazing patients. 💙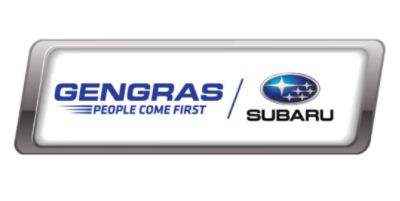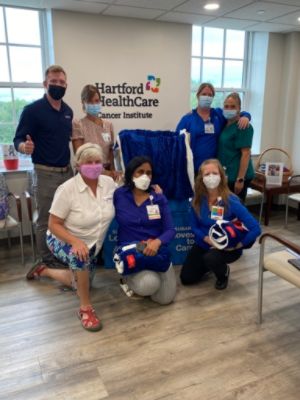 ---
They Talk the Talk, AND Walk the Walk! - Ashley C
Gengras Subaru has once again demonstrated to our community that they not only talk the talk when it comes to supporting victims of domestic and sexual abuse, they walk the Walk! In May 2022, Susan B. Anthony Project in Torrington held its 5th annual Walk a Mile in Her Shoes event, during which men and boys lead the way to raise awareness about the issues of sexual and domestic violence in our community, and raises funds to support victims, by walking a literal mile in red high heel shoes. Gengras Subaru not only supported this event through a generous sponsorship donation, but the men at the dealership showed what great sports they are and put on the 4-inch red high heel pumps to stand -- and walk -- in solidarity with the victims and survivors that Susan B. Anthony Project serves. We are so grateful for the support we receive from Gengras Subaru and its staff, during Walk a Mile in Her Shoes, and all year round!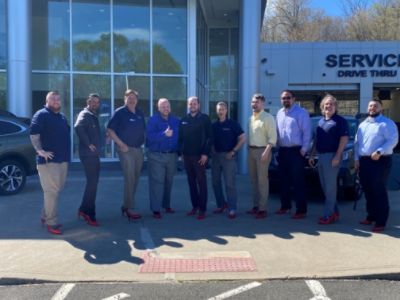 ---
Gentle Giant Brodie Finds His Forever Home! - Jennifer L
Brodie, a 6-year-old adult mixed hound, was intimidating in size at 80 lbs., which made potential adopters coming into the Little Guild Animal Shelter often look past him. When given the chance, Brodie acted like a young puppy, he loved to play and cuddle on the couch. Brodie was promoted by Gengras Subaru on their social media, highlighting his goofy personality and beautiful brindle coat. Within weeks Brodie found his forever home, with children to play with and a family that now takes him on the long walks he relishes. The Little Guild is the largest animal shelter in Northwest Connecticut, and serves the entire county and beyond. The Little Guild boasts one of the highest save rates nationally for a no-kill shelter, over 99% this past year. The Little Guild is a 501(c)3 non-profit organization and raises approximately 75% of its operating funds annually through adoption fees, donations, and fundraising. Subaru offers critical and ongoing support to the Little Guild, promoting their available animals, hosting adoption events, and giving a $100 donation for each animal adopted in the month of October during the Subaru Loves Pets Event. Subaru's commitment to animals has allowed the Little Guild to place countless animals like Brodie, who want nothing more than for someone to love them back, with caring homes in our community. "Subaru helps us save homeless cats and dogs all year long, we really are so grateful for all that they do for the Little Guild," said Tiffany Lemelin, Little Guild Shelter Manager.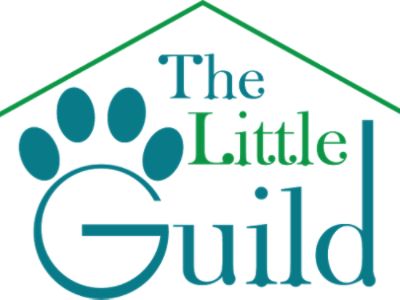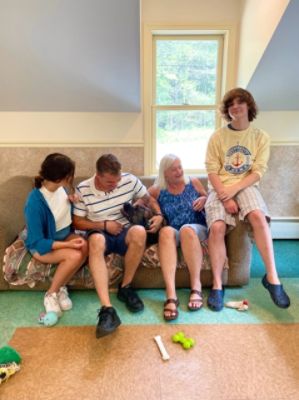 ---