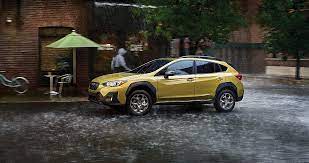 The Subaru Crosstrek is usually a fan favorite, and this year should be no different for those who love refined, fast and yes, sleek cars. If you are looking for a car that is great for date night, off-roading or commuting to and from work, the 2023 Subaru Crosstrek may be your best bet. Here is a first look at the 2023 Subaru Crosstrek.
The new and improved 2023 Crosstrek is available in Base, new Special Edition, Premium, Sport, and Limited trims. The Crosstrek Hybrid will offer one, single-quipped trim level. With every Crosstrek, you get standard 8.7-inch ground clearance, Subaru Symmetrical All-Wheel Drive, and Active Torque Vectoring, which gives you great off-roading ability and smoothness in traffic.
With the Special Edition, you will have the chance to enjoy an exclusive paint color, Desert Khaki, along with black wheels, red fabric seats and a general unique style.
Anyone driving the 2023 Subaru Crosstrek, will enjoy a comfortable and sporty experience. Some models offer two-tone seats and yellow or orange accents. Drivers will enjoy a 6.5-inch touchscreen, which comes standard. There is an 8-inch version available for those who buy the Sport or Limited editions, and both are very easy to use. Both Apple CarPlay and Android Auto are included.
Without a doubt, one of the reasons that Subaru is popular is for all the room. The 2023 Subaru Crosstrek offers 20.8 cubic feet of cargo space, behind the back seats and 55.3 cubic feet of cargo space when the seats are folded. This is roomy, especially when compared to others in its class. With this much room, you can take the car road-tripping or enjoy it as a weekend warrior or even carrying the kids, and their gear, around all weekend. While it seats five, four full-sized adults would probably be more comfortable.
If you are safety-minded, the Crosstrek is a great choice, well Subaru in general is a great choice. With active lane controls and automatic emergency braking, the Crosstrek earns top marks from the IIHS. The Crosstrek also was able to ace the NHTSA crash testing. This means that you can buy the 2023 Subaru Crosstrek with confidence, knowing you and your passengers will be safe and protected. At the same time, with Subaru's technology, you can avoid accidents in the first place.
If you are looking for a sports car that lets you win at the races, the Crosstrek is not for you. However, the standard 152-hp four-cylinder engine offers more than enough power for on and off the road. There is also a very capable plug-in hybrid, along with the optional 182-hp 2.5-liter engine that gives you a little bit of boost. Either way, the engine in the 2023 Subaru Crosstrek is very formidable.
Without a doubt, if you are looking for a sleek, quick, fun to drive car, on and off the pavement, the 2023 Subaru Crosstrek is a great bet. You can take one for a spin or check one out at Gengras Subaru. Here, you can see for yourself how great of a piece of engineering work the 2023 Subaru Crosstrek is.