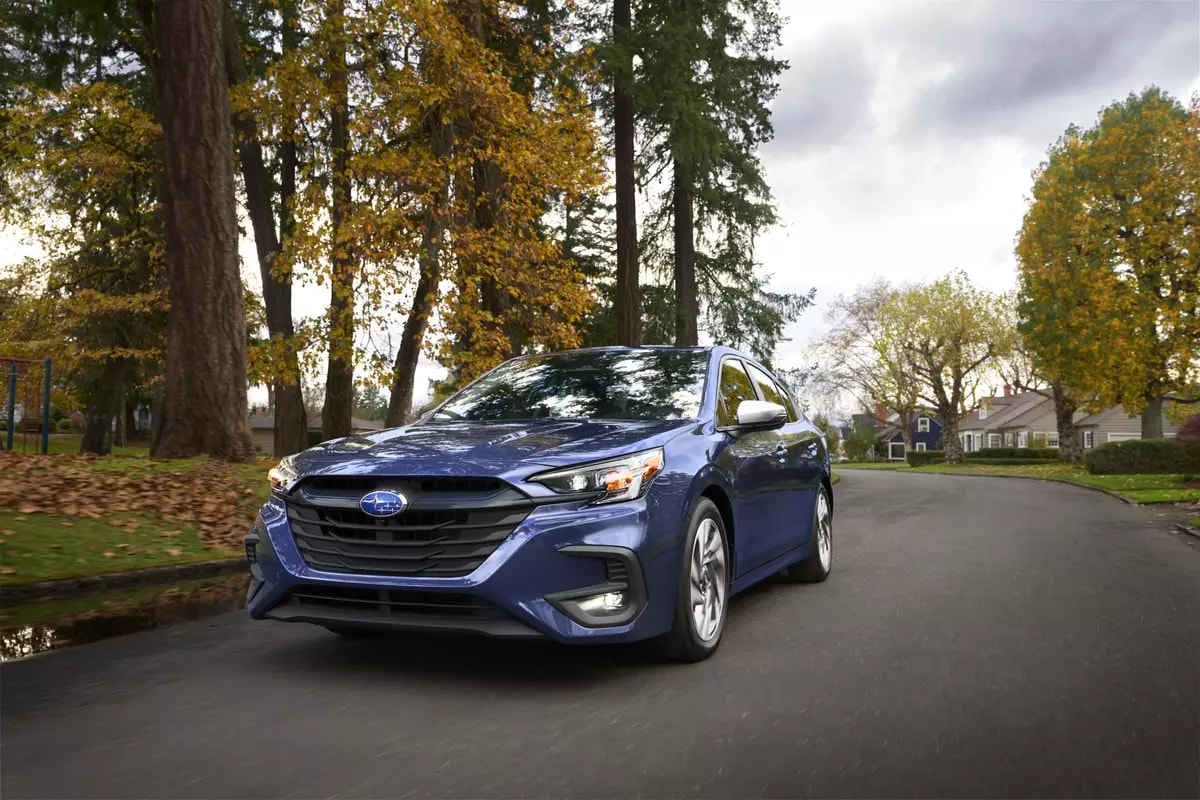 The Subaru Legacy is getting a refresh for 2023, and anyone in the market for a new car should be excited as there is a little something for everyone in this update. While the Legacy is already a popular car and has had many revamps since it came out in 1989, the refresh is sure to please Subaru fans. Here is a look at the refresh that the Subaru Legacy is getting for 2023.
The most obvious change to the Legacy is the front fascia. Owners will enjoy a new trim piece in the grille that will nearly span the width of the vehicle. This should give it a more aggressive and sporty look. Drivers will appreciate the front bumper, which now has redesigned fog-lamp housings. For this refresh, the rear of the Legacy was left untouched.
People love the Legacy because it's sporty, yet refined and still easy to drive in day-to-day situations. The Sport trim now offers a standard 260 horsepower 2.4-liter turbocharged flat four. This replaces the base engine, which was still an impressive 182 horsepower, 2.5-liter fast four. The Sport offers a red accent in the grille, gray 18-inch wheels and a comfy two-tone cloth interior with red stitching. Also included in the Sport is a "sport tuned" suspension, according to the manufacturer. This should make driving the Sport even more fun.
As with previous models, the Legacy comes with Subaru's own EyeSight suite of driver-assistance technology. This offers lane-departure warning, automated emergency braking and lane-keeping assist, Legacy drivers have a lot of protection. Certain new models will also offer automatic emergency steering, which is designed to help avoid collisions with objects at speeds below 50 miles per hour. Those who opt for the Touring XT model will enjoy a wide-angle camera, which expands the view for the EyeSight system.
Those who love tech aren't left out. There was an update to the SUBARU STARLINK 11.6-inch infotainment system. It offers wireless Apple CarPlay® and wireless Android™ Auto, and they both include full screen display. Subaru also promised better performance on the home screen and more prominent controls. If you live in a colder climate, the heated steering wheel is also improved. It doesn't just heat up on the sides. Now the entire steering wheel heats up. Buyers of the new base model and Touring model will enjoy heated seats and wiper de-icer as standard equipment.
The new and refreshed 20203 Subaru Legacy should be even more attractive after the latest refresh. While it's mild compared to other refreshes in the past, with more safety features, new technology, a bolder look and an improved Sport model, there is still plenty to get excited about. If you want to check out the 2023 Subaru Legacy or other previous years, head to Gengras Subaru, where you can check out their extensive inventory and choose the right Legacy for you. However, if you want the new, and refreshed, 2023 Subaru Legacy, you may have to wait a few months till it comes out.